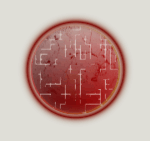 Farsite, an outer space-themed multiplayer online adventure game, will soon debut on the Ethereum Blockchain featuring an economy based on Non-Fungible Tokens (NFTs) and collateral Non-Fungible Tokens (cNFTs). NFTs can uniquely identify or recognize digital items such as artwork, skins, or objects, making each NFT a collectable. In Farsite, players craft items, most notably spaceships, that become NFTs with an assigned value backed by ERC-721 (the Ethereum NFT standard). These NFTs have a number of in-game and out-of-game applications.
In-game, players can exchange their NFTs for "Credits," Farsite's primary currency for buying and selling items in-game. Players can also stake their NFTs as collateral for borrowing Credits or items from other players. This is known as a cNFT and it allows one player to lend something to another player secured by the underlying value of the staked cNFT, which could be a spaceship created by the player. Out-of-game, players can trade their NFTs on external marketplaces like OpenSea, which adds an actual financial component to the gameplay.
In-game currency is not a revolutionary idea; many games have what is termed a "grind currency" – a currency that players can obtain by playing the game, and a "premium currency" which usually only can be obtained by purchase with fiat. For instance, FIFA, made by EA Sports, has been using virtual currency for years in their online Ultimate Team feature that allows users to trade player cards for coins . But Farsite's use of NFTs means that each item is unique or one-of-a-kind, which gives players an incentive to create items because they could make something of value that could bring financial gain. The NFTs used by Farsite are a departure from the usual "grind currency" in that they serve to enrich the game environment when players create new ships or skins.
LEGAL TOKENS
The regulatory landscape regarding NFTs is still uncertain. There are questions about whether an NFT in this context could be deemed to be a "security" or "commodity" for regulatory purposes, which would place it under the purview of either the Securities & Exchange Commission or the Commodity Futures Trading Commission. In April 2021, a rulemaking petition went out to the SEC asking them to resolve some of these ambiguities about the regulatory status of NFTs. Additionally, there are copyright, contract, and intellectual property questions that arise whenever one party sells an NFT to another. In the context of videogames, these legal issues will become particularly pertinent when NFTs created in-game are sold on external marketplaces for profit. When an NFT is used solely for in-game transactions, some of these questions may have less relevance.